Greetings! I hope this update finds you all happy, healthy, and enjoying the last few weeks of summer. I really need to update this blog more than once a year...I'll try to be better about that!
A lot has happened since my last update in August 2011. First of all, I am now a tenured and promoted Associate Professor in the University of Nebraska-Lincoln School of Music! This is a major step in the career of a college professor and I am most grateful for the support of colleagues and mentors who helped shepherd me through this process.

Most recently, I taught at summer jazz camps at the Yellowstone Jazz Camp as well as our own UNL Summer Jazz Camp. It was a privilege to work with some very talented young musicians and teach with great colleagues. The best part of the day at Yellowstone was the faculty hang around the campfire at night after all classes and rehearsals were over. This is where jokes, "gig stories", and impressions of famous (or perhaps, infamous) bandleaders were shared. The memory of certain phrases still trigger involuntary laughter from me...
In late July, I visited the Arkansas Bandmasters Association Convention where the Arkansas Jazz Educators Big Band and I presented clinic/concert titled "The Great American Songbook". We had a great time discussing the importance of including traditional standards from the Broadway/Musical Theatre/Popular repertorie as well as Jazz/Latin standards in our teaching and concert preparation.
Click here for a short PDF that outlines our presentation.
This year, I was blessed to be involved with three great composer residencies. From May 26 – June 2, I served as Composer-in-Residence at Davis Senior High School (DSHS), near Sacramento, CA.
Mr. Fred Lange, Director of Bands at DSHS, announced his retirement after thirty-five years of teaching last year. Fred built an incredibly strong program, which included an amazing high school jazz ensemble. The DSHS Band Parents Association decided to honour Fred with an original commissioned work for jazz ensemble. They asked me to write it and then come to DSHS for three days of residency prior to the premiere performance. What an honour! On Friday, June 1, I had the privilege of hearing the Davis Senior High School Jazz Ensemble absolutely wail through the premiere of LANGEITUDE ("LANGE-i-tude", get it?) Click here for a PDF of the score to LANGEITUDE (LEGAL format-8.5 X 14").
From April 18-22, I travelled to Winona State University in southeastern Minnesota where I had the opportunity to visit Dr. Rich MacDonald, Director of Jazz Studies and Percussion and work with his talented group of young musicians. We presented concerts on Friday and Saturday. The WSU Concert Choir under the direction of Dr. Harry Mechell sounded wonderful on my new choral work, The Lord's Prayer. This fall, the WSU Chamber Orchestra will premiere the new work they commissioned titled WIZOO!  I can't wait to hear it. Click here for a PDF of the score to WIZOO! (LEGAL format-8.5 X 14").
I had the opportunity to travel to the great state of North Dakota (The Place of the Huts of My Wife's People) twice this spring! From March 22 - 24, I conducted the 2012 North Dakota All State High School Jazz Ensemble in Bismarck. The young musicians worked incredibly hard for a day and half and sounded great on the concert. The North Dakota State University Jazz Festival took place on February 10-11 and I had the opportunity to serve as a clinician and guest soloist. I heard a number of fine middle school, high school and college groups at the festival. The program at NDSU is really coming on strong...Kyle Mack's NDSU Jazz Ensemble I always sounds great. It's always a fun hang with NDSU professors Matt Patnode and Jeremy Brekke...plus I got to meet and work with the great composer-arranger and pianist James Miley. 
CHINA and TAIWAN
On Saturday, November 5, 2011, my good friend and colleague Paul Haar and I left the Husker Nation for 11 days of residencies at the Shanghai Conservatory of Music and with the Taipei Jazz Orchestra in Taiwan. We were invited by jazz educator emeritus Dr. Gene Aitken. What an amazing experience! We worked for several days with the our friend Zhang, Xiaolu-Professor of Saxophone and Jazz Studies and the great students at the Shanghai Conservatory (SCOM). On Thursday, November 10th, we premiered a new commissioned work for Chinese percussion ensemble and jazz orchestra titled BOOMING-BLOWING jointly composed with Dr. Zhang Xuru, professor of composition and Assistant Dean at SCOM. 
We then travelled on to Taipei where we worked with the fine Taipei Jazz Orchestra as well as visiting Mr. Ray Heberer and the instrumental music program at the Taipei American School. I think we both came back with a renewed appreciation of the commonality and humanity of musicians worldwide.
Here is a slideshow of our trip: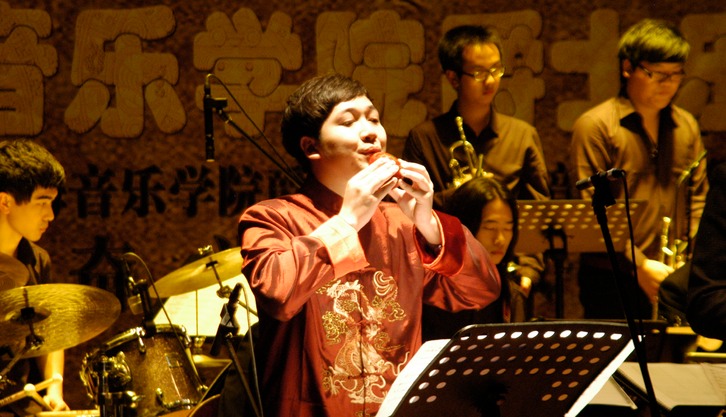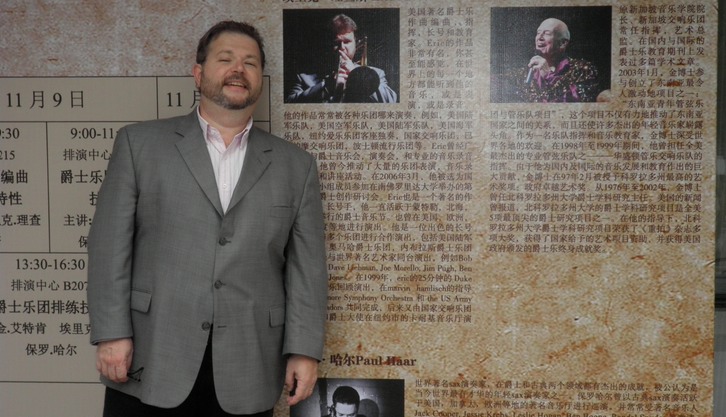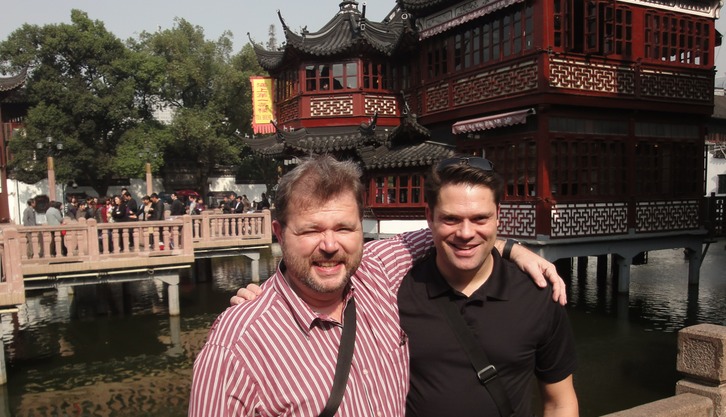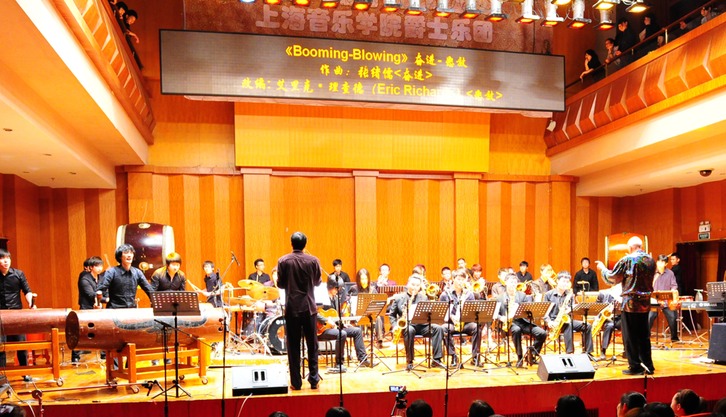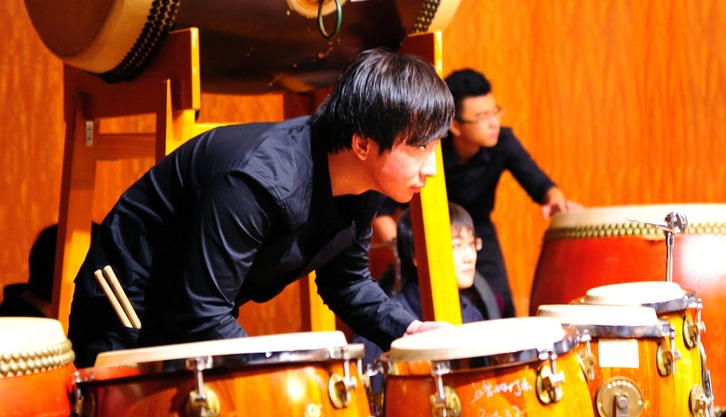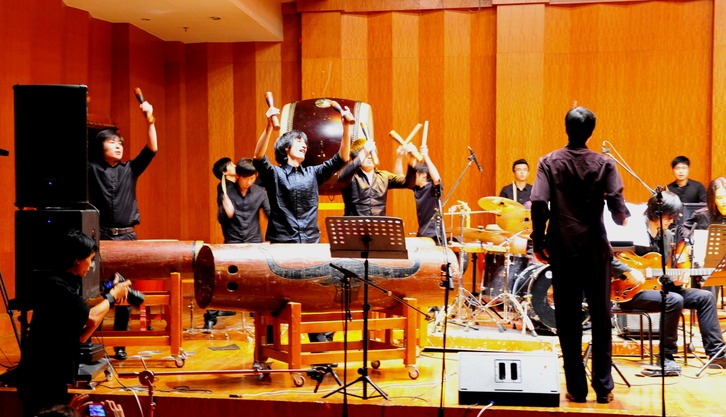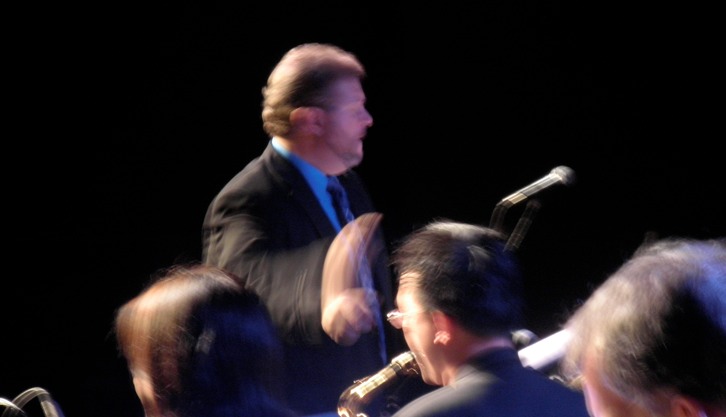 During our "morning consitutional" on the third day in Taipei, we noticed the incredible courage and skill of the ubiquitous motor scooter drivers in the downtown traffic. Hopefully, this little scene will convey the vibe...
In this scene, Paul test drives the US/Taiwan jointly developed secret TNSTS-1
(Tactical Nuclear STRAIGHT Tenor Saxophone). On one hand, it sounds very good. On the other hand,
you have to hire an extra cat to help you schlepp the case to the gig...
UNL
It's been a memorable year of writing and performing at the UNL School of Music. Our composers presented several concerts of newly composed music in our Wet Ink concerts and in degree recitals. We hope to be involved with a very cool Rite of Spring Centennial Commemorative Concert at the Holland Performing Arts Center in Omaha in February 2013. This concert will involve new works inspired by Le Sacre… as well as a performance by the UNL Jazz Orchestra presenting one of the movements of composer-arranger Darryl Brenzel's extremely hip new reworking of this major piece for jazz orchestra. We're also excited to collaborate with our compositional colleagues from the University of Nebraska at Omaha.
The UNL Jazz Orchestra and Big Band presented a series of fine performances last year, commencing with our annual concert of new music written by UNL students, faculty and alumni. We're especially proud of two of our alumni, David von Kampen and Paul Krueger. This year, both Downbeat Student Music awards for graduate composition and arrangement were won by former UNL writers! David von Kampen (BM '2008, MM 2011) won the Best Original Composition Award for his piece Sneak Out. David is currently pursing a DMA degree at the University of Kansas where he studies with Jim Barnes and Dan Gailey. Paul Krueger (BME 2009) won the Best Original Arrangement award for his setting of Steve Wilson's Wish You Were Here. Paul is a recent alumnus of the Jazz Studies program at the University of Oregon where he studied with Steve Owen and Brian McWhorter. Well done, guys!
In December, the UNL Big Band and Jazz Orchestra performed with guest artists Ingrid Jensen (trumpet) and Christine Jensen (saxophones/composer). UNL commissioned Christine to compose a new work titled Treelines which we premiered at the concert featuring music from Christine's Juno-winning album TREELINES. It was very cool.
ER & Bill Watrous
In March, I got to fulfill a life long dream by meeting and performing with one of my "trombone heroes", the great Bill Watrous. Bill did a memorable job as Guest Artist with the UNL Jazz Ensembles. Special thanks to John and Laurie Tavlin of Nebraska Diamond for funding
this exciting concert!
There are some very gifted graduate students entering our D.M.A. programs in Jazz Studies this fall. They'll be joining the current strong undergraduate and graduate players already in place, so the Jazz Orchestra, Big Band, and Combos should be in great shape. The UNL Jazz Orchestra will be featured at this year's Nebraska Music Educators Association Convention in November. We perform on Thursday, November 15, 2012 @ 4.00p in the Kimball Recital Hall. It's going to be a special concert…come check it out!
Check out the SCHEDULE page for a listing of all of our Composition and Jazz Studies area concerts at UNL for the upcoming academic year. 
WHAT'S NEXT?
The next year holds the promise of several new interesting projects, to include:
• A new arrangement of Eddie Harris' FREEDOM JAZZ DANCE for Belwin Jazz Publications
• A new work for the Shanghai Conservatory of Music Jazz Ensemble to be premiered at the 
  First China Jazz Education Festival

• New music for the Jazz Vespers Service at St. Peter's Church in New York City 
  (more to come…I'm really excited about this!)
• A new work for the University of Denver's fine Lamont Jazz Orchestra to be premiered in the spring of 2013

• A possible new work for wind ensemble and jazz sextet.
A commissioning consortium of university band/jazz studies programs may be forming to support this piece. Contact me if your program might be interested in joining the consortium.
• A possible new multi-movement work for bass trombone and jazz orchestra to hopefully be premiered by a well known soloist at a major trombone-oriented event in 2013 (cryptic enough for ya? ;)
As with the possible new piece for wind ensemble and jazz sextet above, a commissioning consortium of university jazz studies programs may be forming to support this piece. Contact me if your program might be interested in joining the consortium.
That's enough for now...if you would like to get in touch, please feel free to do so via the Contact page or e-mail (eric@ericrichards.com).
 Blessings to all of Yinz (as we say in Pittsburgh),
2 Chron. 7:14